Detail information
HD5 BuzzTV with Android 11 is a Dongle with 32 GB Internal Memory and 4GB RAM.

This super fast IPTV settopbox uses Quad Core Amlogic CPU.
With 32GB of internal storage the HD5 has plenty of space to download your favorite content.
Our HD5 comes standard with our brand-new BT-400 Smart Remote that allows you to easily control your TV's Power button, Volume control and TV source input.
Built Inside the HD5 is our new Buzztv Smart Remote App.
With this app you can automatically pair your TV to the BT-400 Smart Remote, turn the backlight on and off and program the four-color keys on the remote for quick access to your favorite apps.
The BuzzTV 5 app is the next generation of streaming. Optimized is an understatement in the evolution of BuzzTV 5 OS.
Years of continuous improvement and innovation are woven in its DNA.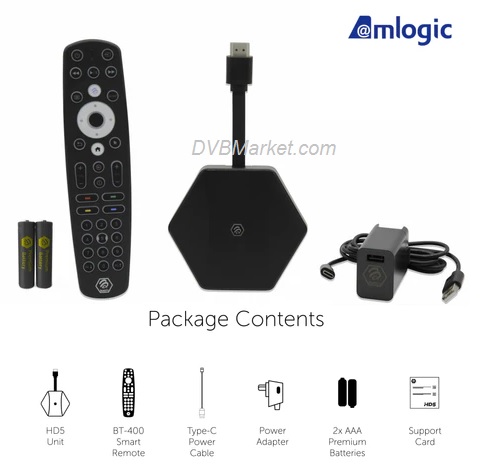 WiFi/Bluetooth
2T 2R - Built In Dual Antennas provide a significant increase in range to and from your router.
Bluetooth Pairing Button - We integrated a physical button on the side of the HD5 for Bluetooth pairing.
905y4 - This new chipset from AMLogic is 10% faster in operation speed compared to our previous Vidstick.
Android 11 / AV1 – The HD5 incorporates the most modern OS and Codec's available.
Built-in LAN Port - The integrated LAN port allows for more stable internet over wired connections.
Built-in HDMI – We have incorporated the HDMI cable directly to the HD5 for flexibility and strength. Attaching the HD5 to your TV is a snap and can be easily removed for convenient travel.
BT-400 Remote - New for 2022 is our most advanced remote.
The Bt-400 is a Bluetooth smart remote with an auto TV learning feature.


Shipping worldwide from EU stock, next day delivery.
---
Discussion
---